Immunity Aromatherapy Blend
Regular price

$26.00

Sale price

$26.00
---
Eternal wellness springs to life with Botanical Republic's Immunity Aromatherapy Blend, our best-kept secret to support health and vitality. Potent organic essential oils have been combined in light fractionated coconut oil to support your immune system and delight your senses.
Infused with an energetic blend of citrusy-floral Bergamot, spicy Clove, zesty Ginger, woody Pine Needle, and rich Frankincense along with Eucalyptus and Rosemary Oils, each handpicked for their potent wellness power, this travel-friendly roll-on will transform your day the moment you untwist the cap. Take it with you everywhere to experience the wellness-enhancing effects anytime you need it.
.34 fl oz | 10 mL
KEY INGREDIENTS
Grapefruit - Grapefruit essential oil, noted for its refreshing, citrus aroma, is believed to bolster immunity. Rich in antioxidants and vitamin C, it aids in strengthening the body's defenses. Its key compound, limonene, stimulates the immune system, reduces inflammation, and promotes lymphatic system health. The oil's uplifting scent also helps alleviate stress, indirectly enhancing immune health. A valuable addition to any aromatherapy blend, it complements a balanced lifestyle for overall wellbeing.
Bergamot - With its unique, citrusy aroma, it may help with relaxation, reduces feelings of stress, and fosters a tranquil state of mind, making it a natural and holistic aid in stress management and promoting tranquility.
Eucalyptus - It is often used in aromatherapy for its potential to contribute to a sense of overall wellbeing, which can indirectly support the immune system. Its refreshing, clean aroma can help to create a calming and stress-free environment. As stress can impact the immune system, the calming nature of Eucalyptus essential oil could potentially provide support. However, it's important to note that while it's a cherished part of many holistic health practices, essential oils are not a substitute for medical treatments or a balanced lifestyle.
Frankincense - Renowned for its warm, spicy aroma, is valued in aromatherapy for its calming and soothing effects, which can indirectly support the immune system. By helping to create a tranquil environment, it can aid in reducing stress, a factor known to affect immune health. Though a cherished component in holistic practices, it's important to remember that essential oils like Frankincense complement but do not replace balanced health habits and medical treatments.
Product color may vary (Clear or Orange) depending on the Grapefruit Essential Oil used.
Directions

Roll onto desired area such as the back of the neck, chest or the bottom of the feet. Do not apply on or around the face.

Caution: For external use only. Avoid contact with eyes. Discontinue use if irritation occurs. Keep out of the reach of children. Store in a cool, dry place and out of direct sunlight.
Full List of Ingredients

Caprylic/Capric Triglyceride*, Citrus Aurantium Bergamia (Bergamot) Fruit Oil*, Lavandula Angustifolia (Lavender) Flower Oil*, Zingiber Officinale (Ginger) Root Oil*, Citrus Grandis (Grapefruit) Peel Oil*, Citrus Aurantium Dulcis (Sweet Orange) Peel Oil*, Eucalyptus Globulus Leaf Oil*, Rosmarinus Officinalis (Rosemary) Leaf Oil*, Cinnamomum Zeylanicum (Cinnamon) Bark Oil*, Eugenia Caryophyllata (Clove) Flower Oil*, Boswellia Carterii (Frankincense) Oil*, Pinus Sylvestris (Pine) Leaf Oil*, Tocopherol, Rosmarinus Officinalis (Rosemary) Leaf Extract, Benzaldehyde+, Benzyl Benzoate+, Cinnamaldehyde+, Citral+, Eugenol+, Isoeugenol+, Limonene+, Linalool+, Methyl Eugenol+, Safrole+.

*Certified Organic Ingredient
+Naturally occurring in essential oils
Share
Our products are Leaping Bunny and PETA Cruelty-Free & Vegan certified.
This product has not been evaluated by the Food and Drug Administration (FDA) and is not intended to diagnose, treat, prevent, or cure disease.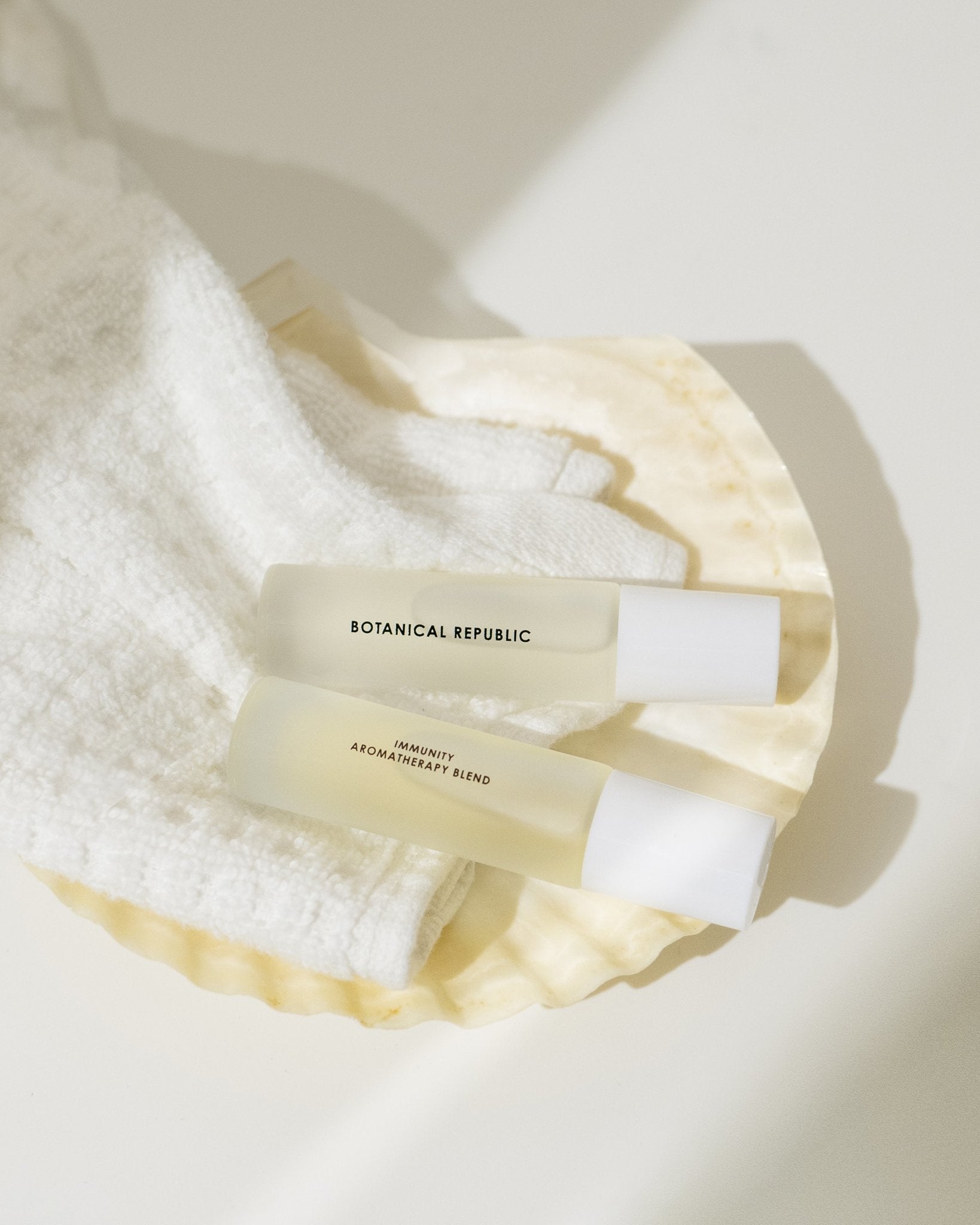 If you could put a big BEAUTIFUL forest in a bottle.
One of my favorite things about camping is the refreshing scent and smells of a big forest. This little magical bottle encapsulates all of the subtle aromatic wonders of nature. I think we forget the beauty and power of scent... this gem will remind you.